Electrolysis is the perfect hair removal treatment for any skin type and hair color!
Our NYC Electrolysis is the Best Permanent Hair Removal Treatment
Electrolysis is the best hair removal for men and women alike, no matter what your skin type, hair texture or hair color. When thinking about electrolysis vs laser hair removal, know that lasers are only good on light-skinned people and those with dark hair. Laser treatments can actually burn dark-skinned people.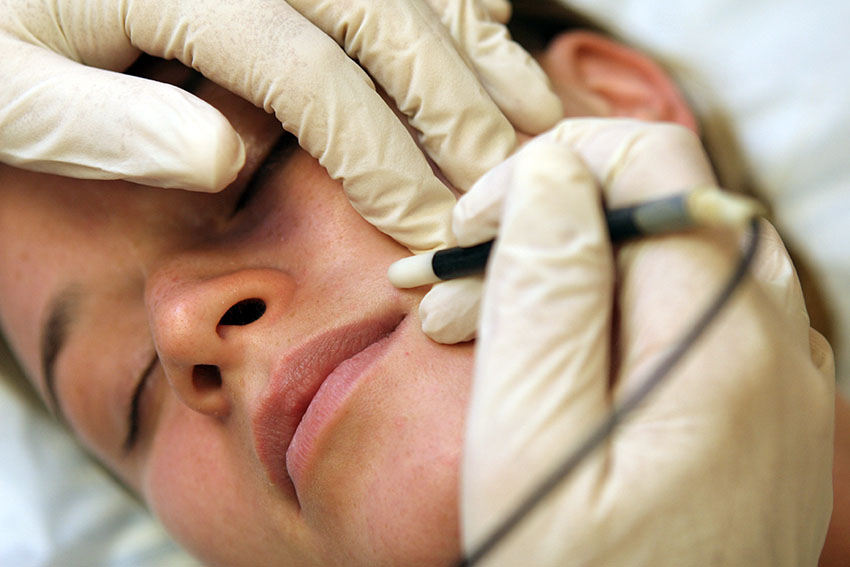 As for hair color, the reason it doesn't work well on light colored hair such as blond, gray and red, is because laser hair removal targets only dark color pigment. It is also ineffective in removing fine hair. Lastly, for any facial hair removal, you do not want a bright laser light anywhere near your eyes.
! Electrolysis is Safe!
Our trained and certified electrologist can remove excess facial or body hair from just about any area that you wish, safely and effectively. You can choose electrolysis for unwanted hair removal from legs, eyebrows, ears, back, bikini area, upper and lower lip, any part of the face, back, breasts, underarms, shoulders, chest and abdomen.
For added safety, we only use disposable needles when performing electrolysis.
Schedule your FREE consultation now for permanent hair removal, with our certified, licensed electrologist.
Expert Electrolysis Hair Removal NYC at Discounted Prices!
Electrolysis at Dyanna Spa, which has been voted as Best of New York Spa for Hair Removal, is very reasonably priced and quite affordable.
Electrolysis Prices
! We use disposable needles $1.00
Frequently Asked Questions about electrolysis
Downtown: 121 Madison Ave ( between E 30th & E 31 street) , Manhattan, NY 10016
b/t Park Ave. S. & Broadway,
Flatiron district

Monday-Tuesday: 10 a.m.-8 p.m.
Wednesday-Thursday: 9 a.m.-9 p.m.
Friday: 9 a.m.-8 p.m.
Saturday and Sunday: 10 a.m.-7 p.m.
East Midtown: 150 East 39th Street, Manhattan, NY 10016
b/t Lexington Ave. & 3rd Ave.
in Murray Hill district
Monday-Friday:
10 a.m.-8 p.m.
Saturday: 10 a.m.-6 p.m.
Sunday: closed