Eyelash Tinting And Eyebrow Tinting
With eyelash tinting and eyebrow tinting you not only save yourself time with the morning make-up routine, but you add additional beautiful enhancements to your eyes and face. Eyelash tinting and eyebrow tinting, a semi-permanent dye treatment, is the perfect solution for those who feel their eyelashes and brows are either too light in color, or too sparse.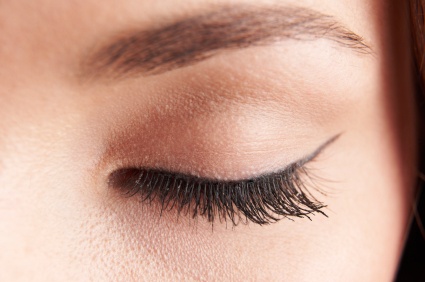 This approximate twenty-minute treatment will bring out the true depth of your eye color while beautifully complementing the contour of your face.
At Dyanna Spa's New York beauty salon, safety is our number one concern. Many women experience an allergic reaction to cheap dye kits sold in stores. The tint we use is derived from organic vegetable-based tints.
Our experts will help you choose which color tint would best enhance your looks, based on your skin, eye and hair color. Our tinted dyes are navy blue, black and brown.

What are the Benefits of Eyelash Tinting and Eyebrow Tinting?

For those deciding why they might want eyelash tinting and eyebrow tinting, here are a few benefits to consider.
If you are a contact lens wearer, you won't have to face the dilemma of the mascara applicator touching your lenses.
You will no longer have to deal with messy and and goopy mascara. With eyelash tinting, your lashes will be evenly colored, perfectly separated, and thicker.
Because eyelash tinting and eyebrow tinting enhances your eyes so much, you can throw away your eyeliner for good. You won't need it.
When you take a shower, go swimming, sweat, wash your face, or just finish a good cry, you don't have to worry about your mascara smudging. Our eyelash and eyebrow tinting dye is waterproof.
Let the aestheticians at our New York day spa give you a vivacious and younger look. Our professionals will ensure your eye safety and enhance your natural beauty.
Downtown: 121 Madison Ave ( between E 30th & E 31 street) , Manhattan, NY 10016
b/t Park Ave. S. & Broadway,
Flatiron district

Monday-Tuesday: 10 a.m.-8 p.m.
Wednesday-Thursday: 9 a.m.-9 p.m.
Friday: 9 a.m.-8 p.m.
Saturday and Sunday: 10 a.m.-7 p.m.
East Midtown: 150 East 39th Street, Manhattan, NY 10016
b/t Lexington Ave. & 3rd Ave.
in Murray Hill district
Monday-Friday:
10 a.m.-8 p.m.
Saturday: 10 a.m.-6 p.m.
Sunday: closed