Threading: A Safe and Effective Treatment for Facial Hair Removal
Threading: A Safe and Effective Treatment for Facial Hair Removal
We offer threading hair removal services at our Manhattan, NY downtown and midtown day spas. Our estheticians use facial threading, an ancient beauty treatment to remove unwanted hair. A 100% cotton thread traps the hair in a mini lasso, as the esthetician rolls the thread along the hair in a twisting motion. This sanitary system lifts the unwanted hair out by its roots.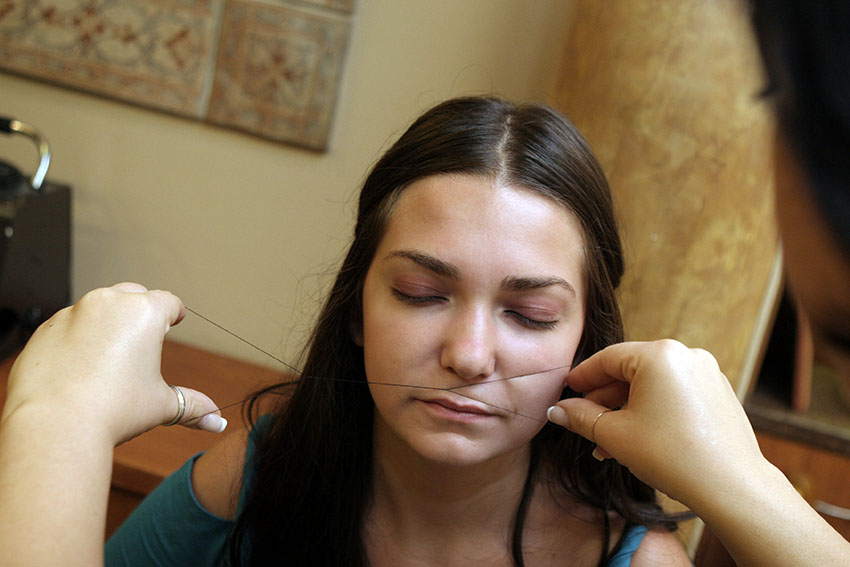 Threading is especially effective for creating perfectly shaped and contoured eyebrows. We are proud to be the winner of the "Best New York Salon for Eyebrow Threading and Eyebrow Shaping for 2009 – 2010" in Manhattan, New York.
Facial Threading Prices
Check out our incredibly affordable facial threading prices.
Downtown: 121 Madison Ave ( between E 30th & E 31 street) , Manhattan, NY 10016
b/t Park Ave. S. & Broadway,
Flatiron district

Monday-Tuesday: 10 a.m.-8 p.m.
Wednesday-Thursday: 9 a.m.-9 p.m.
Friday: 9 a.m.-8 p.m.
Saturday and Sunday: 10 a.m.-7 p.m.
East Midtown: 150 East 39th Street, Manhattan, NY 10016
b/t Lexington Ave. & 3rd Ave.
in Murray Hill district
Monday-Friday:
10 a.m.-8 p.m.
Saturday: 10 a.m.-6 p.m.
Sunday: closed