Dyanna Spa Offers a Full Range of Spa Services
Dyanna Spa offers a full range of spa services for men and women, including manicures, pedicures, massages, body treatments, facials and skin care,ear candling, spa packages, and spa gift certificates.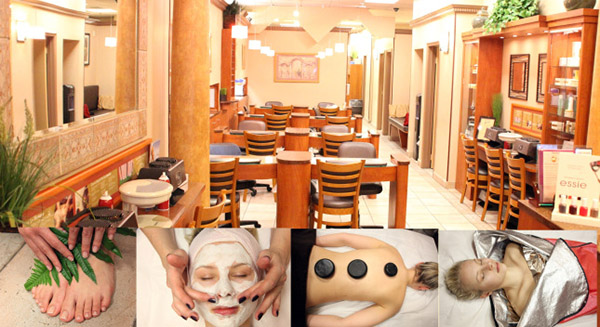 Nail Salon: Men and women alike come to our Manhattan Nail Salon where both traditional and the latest manicures and pedicures are available. From Black Currant Spa Manicures to Buff Manicures and Pedicures for men and women, our nail salon services are without equal.
Massages: Dyanna Spa's massages help our clients to relax and rejuvenate, a much-needed service to deal with the daily stresses of life in the city. Our professional masseuses are experts in their field, helping to increase blood circulation and reduce muscle tension.
Body Treatments: Body scrubs are becoming ever more popular, as they help rid the skin of dead cells, allowing new cell growth. This results in younger looking and healthier skin.
Ear Candling: Ear candling (or ear coning), a non-invasive treatment, removes excess earwax and debris. Its many benefits include alleviating headache pain, and the symptoms of colds and congestion.
Spa Packages: Our spa packages make it affordable to receive several spa services during one visit to our day spa. It helps if you are in a time crunch, or if you can't make up your mind which spa service to choose.
Spa Gift Certificates: Our Manhattan spa gift certificates are the perfect gift for any occasion for a family member, friend, or co-worker. You can buy a spa gift certificate for one spa service, or a spa package.
Schedule an appointment now at one of our two spa locations in east midtown, Murray Hill district, or in downtown Manhattan in the Flatiron/Gramercy Park district.
(Please note that spa services may differ at our two locations.)
Waxing For Women
If you want to rid yourself of unwanted hair, Dyanna Spa's professional estheticians will ensure your comfort with our safe and easy hair removal waxing services. We use two specially formulated waxes – Azulene for all skin types, and Cirepil Blue Hard Wax for sensitive skin. For your safety, we adhere to a strict no double-dipping policy.
Hard Wax/Cirepil Hair Removal for Women
Cirepil/Hardwax Face Waxing for Women
Waxing For Men
Dyanna Spa has been voted one of New York's Best Waxing Salons, so it's no wonder that even men trust the expertise of the professionals to perform such sensitive procedures. Our 30 years of experience in the business, no double dipping policy, unique technique, and privacy policy ensure that all men and women alike receive the best hair removal services in NY. Male Brazilian waxing our specialty.
Body Waxing
Cirepil/Hardwax Face Waxing for Мen
Face Waxing
Hard Wax/Cirepil Hair Removal for Men
For men with sensitive skin, or for hair removal from sensitive parts of the body, Dyanna Spa's specially formulated Cirepil Blue Hard Wax is perfect. No paper strips are involved. Our professional esthetician applies the wax directly to the skin and peels it off, once it hardens. It's quick, easy and safe.
Threading
Dyanna Spa uses 100 percent cotton thread for our threading hair removal treatments. It's a great way to get rid of unwanted hair safely, quickly, and aesthetically.
Electrolisys
Electrolysis is a tried and true method for permanent hair removal. Be assured that only certified electrologists perform this hair removal treatment.
! We use disposable needles $1.00
iThreading for men is available at a slightly higher charge.
Nail Salon Services
Dyanna Spa in Manhattan, N.Y. offers the most extensive nail salon services for men and women in the city. From our basic Regular Manicure and Pedicure, to our luxurious Black Currant Spa Manicure or Pedicure, you'll find our affordable mani/pedis hard to beat.
Manicure
Shellac Nails
OPI Nails
UV Gel Permanent Nails
Pedicure
Facials
Anti-aging Treatments
Body Treatments
Massage
Downtown: 121 Madison Ave ( between E 30th & E 31 street) , Manhattan, NY 10016
b/t Park Ave. S. & Broadway,
Flatiron district

Monday-Tuesday: 10 a.m.-8 p.m.
Wednesday-Thursday: 9 a.m.-9 p.m.
Friday: 9 a.m.-8 p.m.
Saturday and Sunday: 10 a.m.-7 p.m.
East Midtown: 150 East 39th Street, Manhattan, NY 10016
b/t Lexington Ave. & 3rd Ave.
in Murray Hill district
Monday-Friday:
10 a.m.-8 p.m.
Saturday: 10 a.m.-6 p.m.
Sunday: closed